I chose the twirl skirt to do as a tutorial this week because it was super easy. I completed it before nap was over. I love those projects. I wanted something that my daughter could finish out the summer in and still wear this fall. I imagine some cute leggings and a long sleeved appliqued shirt.
Supplies:
Main Fabric
Trim Fabric
1" Elastic
Thread
Scissors
Pins
Iron
Sewing Machine
First you will need to cut your main and trim fabric. I am making 18 months. My main fabric will be 9" x 35". My trim fabric will be 4" x 35". If you are making a smaller or bigger size I would lower or raise the measurements by an 1". I will then cut my elastic 17.5". The rule of thumb for cutting elastic is to measure your child's waist and subtract 2".
I took my trim piece and folded it in half long ways, then pressed. Take your main fabric and fold 1/2" and again 1", press.
Pin the trim fabric to the right side of the main fabric and sew. Fold the trim fabric down and press. Top stitch on the main fabric. This gives it a more finished look.
After placing right sides together pin, and sew closes. Now it is starting to look more like a skirt.
Now it is time to sew the casing closes. Stitch along the edge of your previous fold. Be sure to leave an opening to guide your elastic through. I find it easiest to attach a safety pin to my elastic to guide through the casing.
After your elastic has been guided through, zigzag stitch the ends together. Now it is time to sew your casing closed. You made it. Now you have a finished twirl skirt.
Please let me know if you have any questions. I would also love to see everyones finished twirl skirts if you try the tutorial.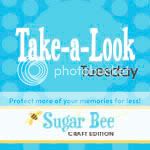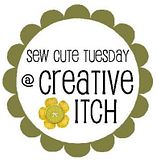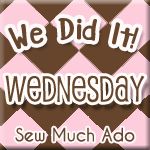 Sugar and Spice Link Party at Seven Thirty Three